Vampos is a glowkies mixel.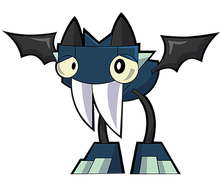 Description 
Edit
Personality 
Edit
Vampos sounds so silly when he tries to talk through those big teeth and he seems chilled out most of the time. But this sedated sports enthusiast from the nocturnal Glowkies tribe is capable of incredible bursts of energy. He lives for the buzz of aerial acrobatics and has amazing aeronautical skills. With those glow-in-the-dark eyes and high-velocity flying ability, Vampos can make a tornado of bright light through the night sky!
Physical Appearance 
Edit
Vampos has a head with two incredibly long teeth connected to a square-like part of the body in front of two sides with an eye on each, and honeydew spikes on each side. On the top of the body is two pointy ears on both sides of the head, with two cat-like ears between. He has a long body which slopes up at the back, and two small bat wings. He has long legs with feet including two honeydew toenails on each. He also has navy blue eyelids.
Vampos can fly really quickly and is amazing at aerial acrobatics. He is also capable of creating incredible bursts of energy, and has glow-in-the-dark eyes. Finally, he can create bright tornadoes.