Oh boy, oh boy, oh boy! I've got one muck!

This page is about a food or object found in the Mixels Land. It is considered canon in the Mixels franchise and may or may not be a mix of two real life objects.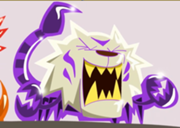 The Ceramic Tigerscorp is one of Shuff's ceramic figurines.
Description
Edit
Tigerscorp has the white and purple head of an albino tiger and the purple body of a scorpion. Like the Piranharex and Porciocobra, it has yellow teeth. Its head has purple stripes on it, and it's scorpion body has a striped tail.
Background
Edit
Tigerscorp appears alongside Porciocobra and Piranharex in the first few seconds of Mailman.
It looks extremely enraged.
It slightly resembles Scorpi.
It is probably the third ceramic figurine collected out of all three, the second being Porciocobra and first being Piranharex.
It is a hybrid.