Oh boy, oh boy, oh boy! I've got one muck!

This page is about a food or object found in the Mixels Land. It is considered canon in the Mixels franchise and may or may not be a mix of two real life objects.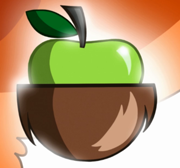 Coconapples are a food from the Mixels Land.
Description
Edit
Coconapples, being a mix of a simple coconut and apple, have the top half of a Granny Smith apple and the bottom half of a brown coconut. They are said to be very crunchy.
Background
Edit
Coconapple
Edit
Seismo is seen trying to reach a coconapple, and struggling in the process. Zorch then comes by, only to be explained how Seismo can't get his coconapple. They then mix, cause a series of events, and then, the coconapple bonks on Seismo's head, knocking him out, and then gets eaten by Zorch.
Coconapples are seen hanging from a tree in the zoom out of the landscape while
Zaptor
is talking about the problems the pothole brings to the environment.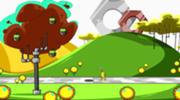 It is one of the mixed foods in the Mixels Land.
It is presumably healthy.
So far its apple part is only seen in green show-wise, but it is possible it comes in red and gold/yellow.
It is seen in Seismo's mirror video.
In Calling All Mixels, flaming Coconapples are seen.

Their leaves are not burnt, and it is unknown why they aren't as this normally doesn't happen.

They are grown off Pipe Trees.
It is unknown of their individual density, as a real-world coconut falling on one's head would cause death due to their thick shells.