Oh boy, oh boy, oh boy! I've got one muck!

This page is about a food or object found in the Mixels Land. It is considered canon in the Mixels franchise and may or may not be a mix of two real life objects.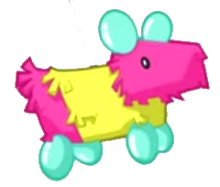 Ballooñatas are items found in Mixel Land.
Appearance
Edit
Being a combination of a balloon and a piñata, they look like a paper horse that is made of different colors, with the ears and feet made out of inflated balloons. They are often filled with candy.
Background
Edit
Shuff is seen holding it, and is later set up in the tree, where Teslo tries to hit it blind folded. It was Teslo's birthday when this happened.